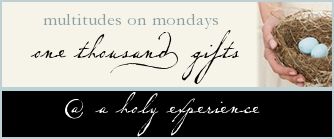 It's been too long since I've posted a Monday list. I've been recording them off and on over the last couple of months in my journal, but I love that I have this space to record and share them.
Counting with
Ann
today...
636. Dress up play between sisters
637. Faces...Looks...Attitudes...
638. ...all that are growing both mom and daughter
639. Daughter just like her mother...
640. ...in the good and the bad
641. Dad and daughters
642. Dad spending time with his girls
643. Warm houses
644. Summer play in the dead of winter
645. Little big girl dressing herself
646. Cute little kid's socks...
647. ...and kids always taking them off
648. My little one not looking so little anymore
649. Happy, happy faces...
650. ...makes mom smile
652. Safe, short labor
653. Newborn cuddles
654. Little clothes that seem too big one day and too small the next
655. No issues or problems with nursing
656. Quietness of sitting and nursing little Joseph
657. Lunch date with hubby
658. Hubby taking care of and doing chicken chores for me
659. Fresh eggs from our own backyard
660. Long talks about us, our family and the future
661. Dear friends visiting and bringing meals
662. Getting back into a routine
Have a blessed week!