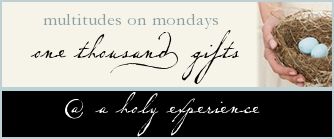 Counting with Ann today.....
747. Little girls in fancy summer dresses
748. Little girls with their daddy on the tractor...in their fancy summer dresses
749. Lunch runs to the field
750. Haying weather
751. Tan lines on little ones
752. Hubby's smiles from across the field
753. Daddy home in time for supper (after many late nights working)
754. Praying as a family
755. Babe's first bites of applesauce...funny faces that occur
756. Ice cream cones before supper
757. Charlie's ideas and directions for an impromtu photo shot...'Let's sit here and you take our picture'
758. Garden planted!
759. Seeing veggies popping out of the ground...sweet corn, green beans, onions and more
760. Saturday morning sunshine
761. Slow mornings...just playing outside
762. Little girl Cori sleeping through the night in a big bed
763. Big sister Charlie sharing her room and bed
God bless!