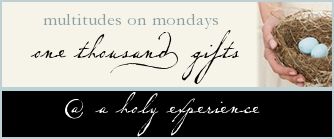 Endless blessings here.....
816. Charlie sooooo excited about starting "school" tomorrow.....
817. .....Mama excited too
818. Buckets of tomatoes from our garden
819. Buckets of green beans too
820. Potatoes all dug up.....
821. .....Hubby's help with the potato digging and weed pulling
822. Dirty kids.....very dirty kids
823. All 3 of them in the bathtub together.....splashing around
824. Sloppy wet bathroom floor
825. Two mornings in a row of uninterupted quiet time with The Word
826. Cute little morning interuptions who snuggle in and join me
827. Grilled burgers over an open fire and friday night bonfires
828. Visiting with friends we haven't seen in awhile
829. Fall nights and open windows
830. Changing seasons, new schedules, new projects, new adventures
Have a blessed week!