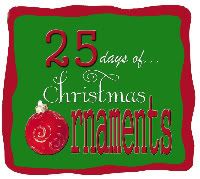 Today, I'm joining in on the
25 Days of Christmas
over at
MamaBear's
blog.
.....and on Day 1, I'm going to share something other than an ornament.
I love this nativity set! I'm not even sure how I ended up with it. I don't remember exactly when I got it, but I think it was after my parents divorced. It originally belonged to my mom and she had it as long as I can remember. Growing up, it was always set up on top of the piano and I remember just sitting there and looking at it.

Someday, I will pass it on to Charlie...who was very cute when we set it up the other day. She had tons of questions about who everyone was and what was going on. What a great opportunity to share Jesus with her!

Hope everyone is enjoying the holiday preparations. We wish you a blessed time spent with family and friends. Check back soon for more Christmas ornament memories.

God bless!