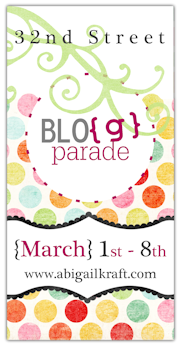 Abigail at
Rear Window - Observations at 32nd Street
is having a blog parade. Swing over and check out
Abigail's blog
. And if you link up you could win too!
The questions...
1. What's your favorite time of the day, and why?
I use to be a morning person, but have turned into more of a night owl. I love the quietness after 9 pm. It is usually my time to relax, read and blog. And with little ones I rarely have quiet time in the morning anymore.
2. If health wasn't an issue, what food could you live off of?
Does coffee count? I don't really have a favorite food, but lean towards salty snacks like popcorn rather than sweets.
3. If you could have one wish granted (besides wishing for more wishes), what would it be?
That everyone I know and care about came to know the Lord.
4. What's one thing that you get teased about a lot?
My hubby tease me that I have
phone-a-phobia
(don't like to talk on the phone).
5. If you could choose one movie, book, or TV show to spend your life in, which would you pick? What type of character would you be?
Little House on the Prairie...one of my favorite shows. I think I would want to be Caroline's friend.
6. If you could have one talent that you don't already have, what would it be?
I would like to be more creative and crafty.
7. If money were no object, where would you go on vacation?
We are not vacation people, but probably something like a RV trip across the country.
8. If you were an awesome singer, which genre would you sing?
Gospel
9. If you could have a $10,000 shopping spree to one store, what would it be?
I'm going to go with Abigail and say Amazon.com. That should cover everything.
10. If you could live in any point in time, when would it be?
I'm always thought I was born about 100 years too late...see above and think Little House on the Prairie.
11. If every outfit in your wardrobe had to be one color, what would it be?
Brown
12. If you were one of the seven dwarves, which one would you be? (Doc, Grumpy, Sneezy, Sleepy, Bashful, Happy, or Dopey)
Right now and often...Sleepy. Sometimes...Grumpy, but I'm working on it.
13. What's the last album you listened to?
Don't laugh...Veggie Tales.
14. What's something we'd be surprised to know about you?
I an an ex-smoker.
God bless!